The Craze Behind Tissot PRX: The Sleek and Stylish Timepiece You've Been Searching For
A Comprehensive Review of Tissot's Affordable High-End Watch Tissot is recognized for pushing the limits of watchmaking.
This is perhaps most visible in their PRX watch range. These watches have an 80-hour power reserve, which is nearly twice that of a regular mechanical movement. That's great news if you just wear your watch a few times each week. We recently acquired a Tissot PRX Powermatic 80 with an integrated bracelet, in multiple different variant – black, blue, green. We were interested in finding out more about it than only its renowned power reserve, and how it would hold up over time. Here are the results we uncovered and some of our observations on this enduring timepiece.
Backstory
The new PRX from Tissot draws inspiration from the Seastar model from the 1970s. Similar to its modern counterpart, the Seastar was also available in various dial configurations. The odd-shaped watches from the 1970s were equipped with integrated bracelets.
It is hard to find a mainstream watch brand from the 1970s that didn't feature an integrated wrist accessory, such as the Royal Oak from Audemars Piguet.
Although quartz became cheaper during this period, other components, such as the case and the dial, were still made from sturdy materials.
The overall design of the watches suggested that the integrated bracelets and watch head should be considered one unit.
Strap
The Tissot PRX bracelet is a key component that complements the sleek and modern design of the PRX timepiece. Crafted with precision and attention to detail, this stainless steel bracelet offers a comfortable fit on the wrist while exuding a sense of sophistication. The bracelet features a combination of brushed and polished links, creating a captivating interplay of textures. Its sturdy construction ensures durability, making it suitable for daily wear.
While the Tissot bracelet is undeniably sleek and timeless, we also understand that some individuals prefer the versatility and unique aesthetic of leather straps – that's why we offer tailored fit leather straps for the Tissot PRX, providing a fresh and personalized look for our community. Countless tests have been conducted to ensure a seamless match between the strap and the dial color, creating a harmonious visual appeal. Additionally, our priority is not only style but also comfort. Extensive efforts have been made to achieve the perfect fit and maximum comfort, allowing you to enjoy a luxurious experience on your wrist. So, whether you're looking to switch up your style or simply prefer the feel of a leather strap, our carefully crafted and thoughtfully tested options offer a perfect solution for every Tissot PRX enthusiast.
Case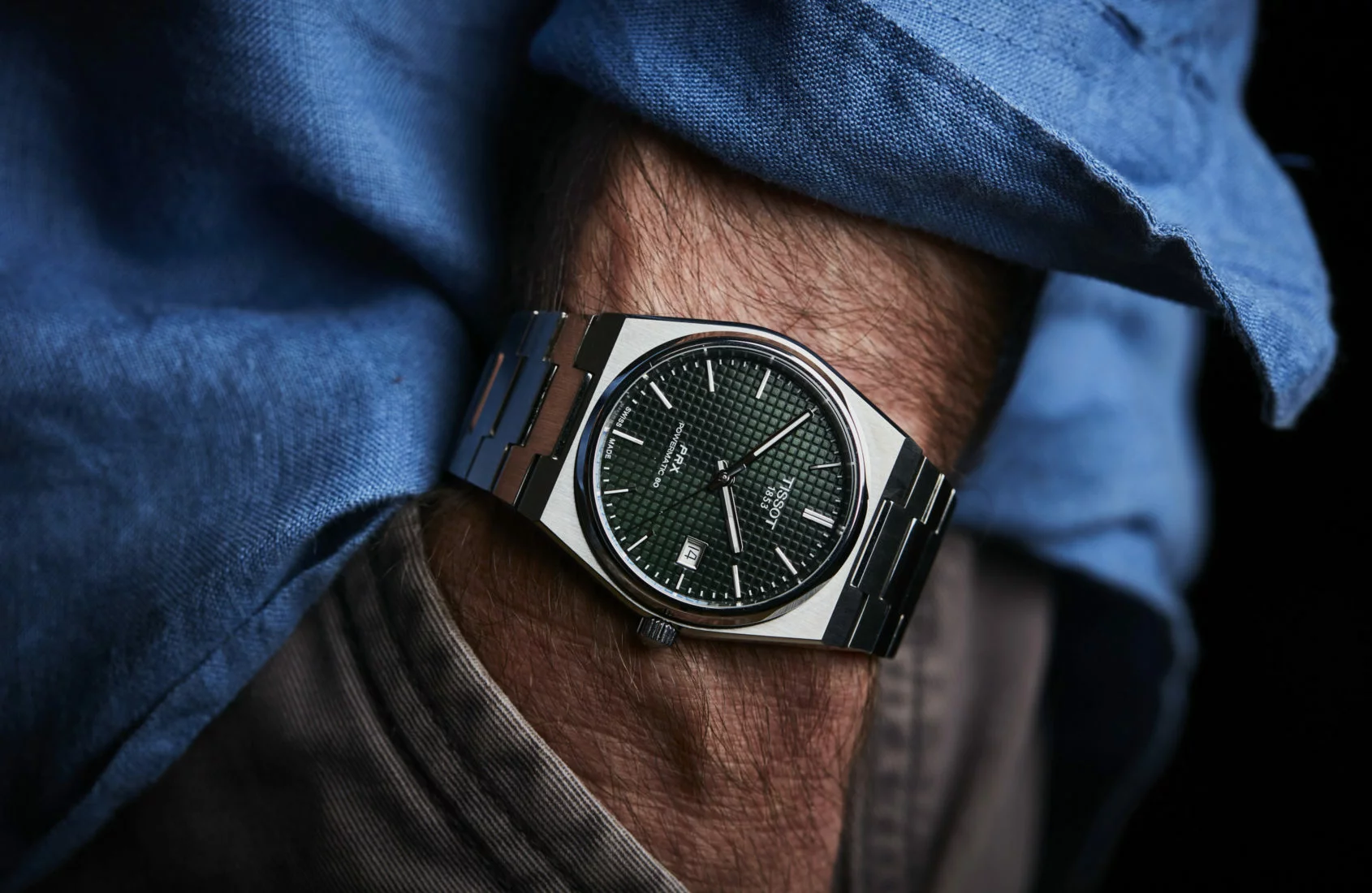 The PRX Powermatic 80 is bigger than it actually is. Its case is wide and tall and features a broad tonneau shape. The dial is circular, and it has a lot of brushed steel. However, if you want to use a different strap, the narrowness of the screws is a drawback. This is a great advantage if you want to use other Tissot interchangeable straps.
This case features a 316L stainless steel construction, which is corrosion-resistant. Its tall profile and broad design don't feel too heavy. It's also only 10.9mm thick, and the bezel features a semi-circled cross section and smooth surface.
The case's crown is located at 3 o'clock, and it's knurled to make it easy to handle. The "T" for "Tissot" is engraved at the tip. Aside from this, the Tissot PRX has a water-resistance rating of 100 meters. A crystal with a slight bevel around its circumference adds a bit of interest to the dial, but it doesn't distort it. It's also got a scratch-resistant coating and is equipped with anti-reflective elements. The case back, which is made from the same material, features various engraving details.
Dial
Although our PRX Powermatic 80 features an elegant blue dial, it's also available in various colours. Some of these include gold, white, black, and green. The textured finish on the dial features raised squares that are similar to the design of Audemars Piguet's Royal Oak. The "Tissot 1853" message is written in silver letters and placed near 12 o'clock and 6 o'clock respectively.
The dial's circumference features short ultra-fine hash marks at the minute marks. The 5-minute marks have a fatter and longer hash with white stripes running down its centre. The 3 o'clock hash is abbreviated, and a double hash adds to the 12 o'clock position. The date window features a silver border and Arabic numerals with black backgrounds.
The minute and hour hands are similar to the index, and they're characterized by a broad and blocky appearance. This allows for white stripes to run down the middle of the hands. The second hand, on the other hand, is narrow.
The Powermatic 80 features a Super LumiNova finish on the hands and 5-minute hash marks. This ensures that the watch can be read easily at any time of the day.
Tissot PRX Automatic Movement
The PRX's design is its main selling point, but its best feature is the 80.111 Powermatic. This model is a good value for its price. Its robust construction and good performance make it an ideal choice.
This movement is a great example of the manufacturing capabilities of Swatch Group, which is the parent company of the leading movement manufacturer in Switzerland, ETA.
Even though it's an economical movement, the 80.111 Powermatic still features various advanced features. These include an 80-hour power reserve and a Nivachron hairspring.
The Powermatic 80.111 is an ETA movement, and the C07.111 is a modified version derived from the ETA 2824 movement. Although the Powermatic 80.111 is not very attractive, it's still fairly priced. A solid case back would have made it more appealing. Its open back also reveals a few of the movement's features, such as the free-sprung stirrup balance.
A free-sprung balance wheel is commonly found in expensive watches, and it doesn't rely on the regulator index. Instead, it relies on the wheels' rim's weight for regulation. This type of setup tends to last longer due to how the movement is regulated.
The New 35mm PRX Model
The PRX collection from Tissot is known for its innovation and constantly pushing the envelope. Today, the brand introduced a new 35mm version of this line. Although we already knew about the 35mm PRX model previously, it was only available in quartz.
The new 35mm version of the PRX collection is inspired by the historical watch that the brand based its entire line on. It features a Powermatic 80 movement (ETA 2824-2 base), and it brings a more unisex and versatile look to the brand's already renowned 40mm models. In addition, the these 35mm PRX models are now available in three different dial colours - blue, black, green, and a white mother of pearl.
These new 35mm models feature a classic '70s-inspired case and an integrated bracelet. They also have a three-hour power reserve and a signature waffle dial. The case is water resistant to 100 meters. In addition, the movement is visible through the exhibition caseback. It is very remarkable that Swatch Group is able to provide such a reliable movement and an unparalleled bracelet for a price range that stretches the range of buyers. The well-executed dial and the price range make this a great buy. Ultimately, everything about this new 35mm PRX has remained the same except for the size. If you're still undecided about the 40mm version of the PRX, this new release might be the right time to get one. 
Conclusion
I like the Powermatic 80 from the Tissot range. It's a great integrated sports watch that's priced under $1000, and it looks good. Its movement is also impressive, and it's comfortable to wear.
Having owned the Tissot PRX for several weeks now, we can safely say that we absolutely adore it. While it is easy to identify all the elements that we love about this watch, it's hard to articulate the feeling that we get when we wear it. The PRX has become a part of our collection, and it has always felt like we're wearing something very special.