The Top 5 Most Talked-About Timepieces at Watches and Wonders 2023
The Watches & Wonders 2023 event is a celebration of craftsmanship, innovation, and style. This event promised to leave us breathless with wonder and awe – and it was executed perfectly. Imagine a world where timepieces are not just mere instruments to tell time, but exquisite pieces of art that transcend the boundaries of technology and design. That is exactly what the special event offers us - a world where time is captured and presented in the most beautiful and imaginative ways possible. From the traditional watchmakers steeped in history to the cutting-edge designers pushing the boundaries of what's possible, the Watches & Wonders event brings together the best and brightest from the world of horology. The event will showcase an array of stunning collections, each a masterpiece of engineering and creativity. As we enter the hall, watch enthusiasts were greeted by the symphony of ticking, each beat echoing in unison. The colours, the textures, the materials, each watch an expression of the individuality of its maker. They can see the intricate gears and mechanisms, the pulsating balance wheels, and the mesmerizing complications, each an ode to the beauty of timekeeping.
In this world of fleeting moments, where time is so precious, the Watches & Wonders 2023 event allowed us to pause and appreciate the artistry and craftsmanship that goes into making these beautiful timepieces. We were each reminded of the importance of time, of cherishing every moment, and of these watches' role in helping us do so. Let's take a look at some of the most interesting timepieces featured during the event.
ORIS PROPILOT X KERMIT EDITION
Have you heard of the new Oris ProPilot X Kermit Edition? It's a collaboration with The Muppets; we are absolutely smitten with it. This watch is a departure from the norm for Oris but in the best way possible. We already adored the ProPilot X collection for its sleek design, comfortable bracelet, and unique aeroplane seat buckle. But with the addition of Kermit's bright green dial, this watch truly stands out. The best part? The Kermit element is subtle, appearing only on the date wheel on the first of every month. We are enamoured with the way Oris has seamlessly integrated Kermit into this watch, paying homage to The Muppets in a playful yet tasteful way.
The result is a watch that is both fun and serious, a true reflection of Oris' dedication to quality and creativity. For those of you who are as captivated as we are, the Oris ProPilot X Kermit Edition is priced at USD 4,600. You can learn more about this special release on Oris' website.
ROGER DUBUIS MONOVORTEX SPLIT-SECONDS CHRONOGRAPH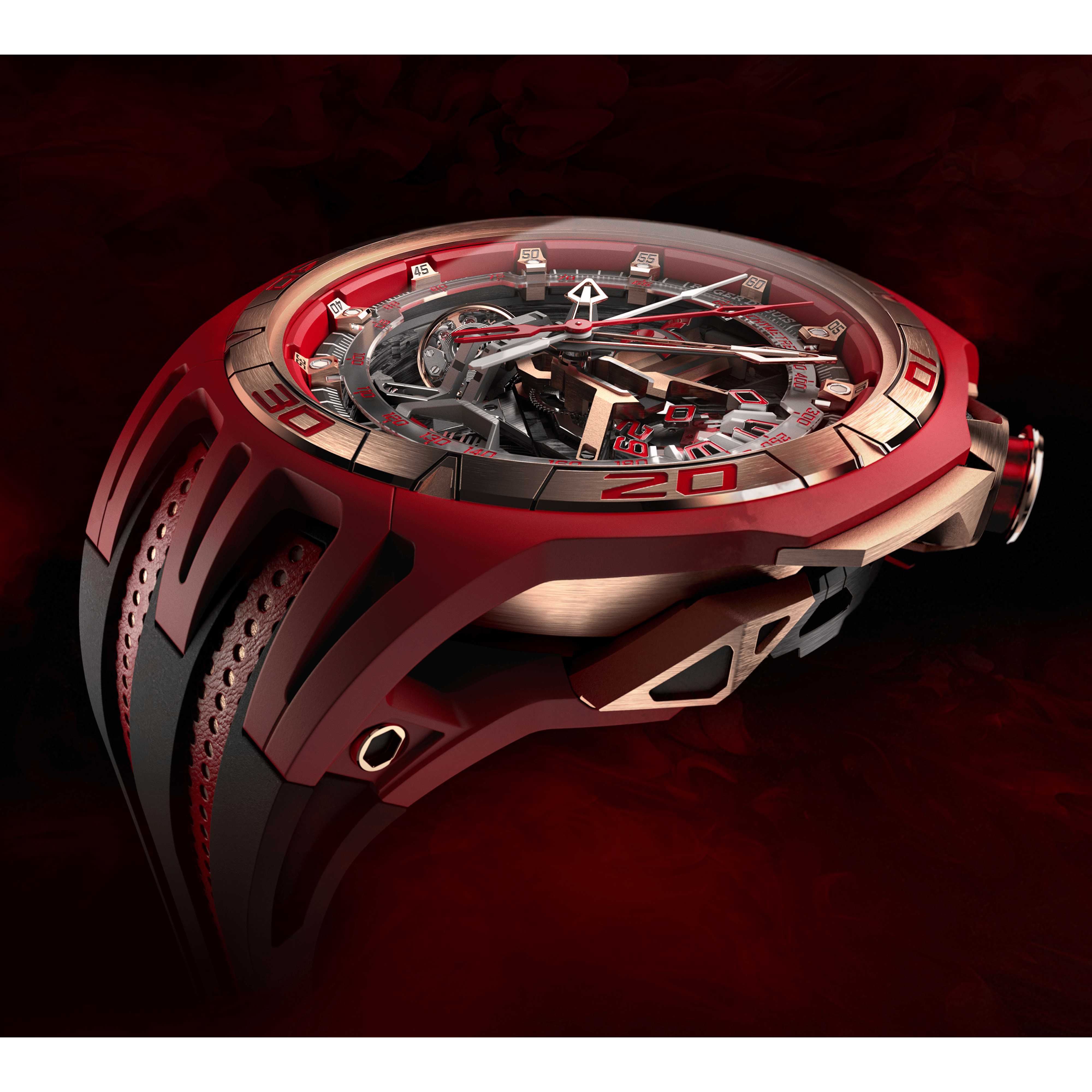 This is a timepiece that truly pushes the boundaries of horology, demonstrating Roger Dubuis' unwavering commitment to innovation and cutting-edge design. At the heart of this watch is a 360-degree Tourbillon and an oscillating weight at 12 o'clock, designed to harness the power of gravity rather than be constrained by it. And the movement inside? It is a marvel to behold, with a minute module display that is as atypical as it is awe-inspiring. All of this is housed in a stunning 47mm Mineral Composite Fibre case, accented with rose gold details that only serve to enhance the watch's already impressive aesthetic.
The Monovortex Split-Seconds Chronograph is a true horological force, a masterpiece that showcases Roger Dubuis' exceptional craftsmanship and unparalleled creativity. We can only imagine what wonders Roger Dubuis has in store for us next. But for now, let us revel in the beauty and majesty of the Monovortex Split-Seconds Chronograph. A true triumph of watchmaking.
CHOPARD ALPINE EAGLE 41 XPS
Chopard has soared to new heights with this timepiece! With a design that is a fierce competitor to the likes of Audemars Piguet Royal Oak and Patek Philippe Nautilus, this timepiece has now taken flight in the ultra-thin steel sports category. The super-thin Chopard manufacture movement that powers the watch, along with the micro-rotor, has allowed for a sleek 8mm thickness, even thinner than the Royal Oak Jumbo Ultra-Thin. And let us not forget the stunning salmon dial that catches the eye and commands attention.
At USD 22,500, this watch is worth every penny, fitting in perfectly with its competition in the category. Chopard has truly outdone itself with the Alpine Eagle 41 XPS, taking the brand to new heights in the world of luxury watches.
CARTIER SANTOS DUMONT MICROROTOR COLLECTION
Cartier never fails to amaze us with their stunning releases. And this time, they have outdone themselves with the Santos Dumont Microrotor. A true masterpiece that celebrates the legacy of the legendary aviator, Mr Dumont. With three different versions in steel, pink gold, and yellow gold with Cartier's mesmerizing navy lacquered case, this collection is nothing short of exceptional. The attention to detail in case finishing is a testament to Cartier's craftsmanship, and the aircraft-inspired rotor is a beautiful nod to Mr Dumont's ingenuity. The automatic movement is a marvel to behold, and its precision is a testament to the brand's commitment to excellence. At USD 30,100 for the steel version, USD 39,250 for the Rose Gold case model, and USD 40,450 for the Yellow Gold with Navy Lacquer, these watches are a testament to Cartier's dedication to producing extraordinary timepieces.
It's no surprise that the Cartier Santos Dumont Microrotor is a standout favourite, capturing our hearts with its stunning design and impeccable quality. Thank you, Cartier, for continuing to amaze us with your exceptional artistry.
PATEK PHILIPPE AQUANAUT LUCE ANNUAL CALENDAR 5261R-001
Our hearts were captured by Patek Philippe's Aquanaut Luce ladies' collection this year. Amongst the array of dazzling releases, this rose gold watch stood out with its captivating annual calendar complication, featuring day, date, and month, requiring only one manual correction per year. The blue-grey dial evokes a sense of tranquillity, leaving us to wonder if we will see more exquisite pieces crafted in this sublime tone.
How enchanting it is to see Patek Philippe extend their expertise in producing a ladies' watch with serious complications, a rarity in the watch market. We applaud the absence of any gaudy gems or diamonds and appreciate the pure beauty of this watch's annual calendar complication. Its 39.9mm case size allows it to be worn by all genders. The blue rubber strap complements the dial flawlessly. This piece is a marvel of art and technology, priced at USD 61,510.
Final Thoughts
As we conclude this journey through the horological wonderland of Watches & Wonders 2023, our hearts are filled with awe and admiration for the beauty and craftsmanship that was on display. From the intricate complications to the stunning designs, each timepiece seemed to have a story to tell. We were swept away by the magic of Cartier's Santos Dumont Microrotor, mesmerized by the elegance of Patek Philippe's Aquanaut Luce, and dazzled by Jacob & Co.'s Billionaire Timeless Treasure. These watches are more than just timepieces - they are works of art that speak to the soul.
We cannot wait to see what the future holds for the world of haute horlogerie, but for now, we will cherish the memories and the joy it has brought upon all.