A Timeless Masterpiece of Luxury and Elegance

Louis Vuitton is a French luxury fashion house that has been in existence for over 150 years. The company was founded in 1854 by Louis Vuitton, who was a master trunk maker. Vuitton's trunks were known for their durability and were in high demand by wealthy travellers
When it comes to luxury and style, Louis Vuitton has always been a name that shines brightly.

With a legacy of crafting exquisite fashion accessories, the brand has now ventured into the world of sports watches with its new steel sports Louis Vuitton Tambour.
The Tambour timepiece was first released by Louis Vuitton in 2002. Although many people probably don't realize it's more than 2 decades years old, this watch design is still relevant to the brand. Its foundation has helped define the various facets of the brand's watches.
This timepiece brings together the essence of elegance and high performance, catering to both watch enthusiasts and sports aficionados alike. Let's explore the remarkable features and unique design elements of the new steel sports Louis Vuitton Tambour, and why it has captured the attention of the horological community.
The History of Louis Vuitton
Louis Vuitton began his career as an apprentice to a successful trunk maker in Paris. However, he quickly became renowned for his remarkable abilities and was quickly hired by the Empress of France, Eugenie de Montijo, to make trunks for her. Vuitton's trunks were so popular that he was able to open his shop shortly after that.
In 1858, Vuitton presented a brand-new lock system that made his trunks more secure and theft-proof. This lock system was so effective that it is still used on Louis Vuitton trunks today. After Louis Vuitton passed away in 1892, his son Georges Vuitton took over the business. The monogram was an immediate success and is still used on Louis Vuitton products today. For many years, Louis Vuitton has broadened its line of products such as clothing, accessories, shoes, and watches. Today, the company is still known for its top-quality products and dedication to craftsmanship and development.

The new Louis Vuitton Tambour is a complete reimagining of the iconic Tambour model. It is the brand's first in a line of watches that will be released in various metals. Although it's a unique product, it's also the company's way of taking a concept and making it feel at home with the brand's overall approach.
The Design
The new Tambour features a 40mm case that's 8.3mm thick, and it's the first time that the name drum case shape has been used for a watch. This new model is built for ergonomics, and the thinness of the case means that it's not completely flat, but rather has a defined wrist area. This is the kind of detail that an Arnault watch enthusiast would want to include in a release of this magnitude.
The Tambour is made from sapphire crystal and features a flexible case that's very comfortable to wear. Its smallish proportions and lack of prominent edges provide a soft touch to the skin, and it can be worn by both women and men. Its water-resistant rating makes it ideal for thin watches.
The dial design is another example of how Louis Vuitton is infusing a certain style of watch with its own unique elements. While it's not a copy of an earlier model, it still feels like it's part of the brand's DNA. The various circular sections also feature a small-seconds display.
Although the Arabic numerals appear to have a similar style to the current Tambour models, they're made more impactful by the lumed interior and raised application.
Dial
The new Louis Vuitton Tambour features a similar design manifesto as its predecessor. If you look closely, you'll notice that some of the watch's older elements are still present, such as the Arabic numerals and baton markers. But, the new Tambour's dial is more refined and crisp. It's available in two different shades: dark blue and silver-grey.
The new Tambour is available in two different shades: in either a silver or blue version. I prefer the silver variant due to its various facets and levels, which make it very interesting even without vibrant colours. On the other hand, the blue dial is very sophisticated and contrasts nicely with the numerals and hands. At 12 o'clock, the watch features the brand's signature and "Paris" text, replacing the "Automatique" text.
The main surface of the dial is brushed vertically, and depending on the light, it almost seems like it has a different colour. It also houses a simple Louis Vuitton Paris emblem. At the 6 o'clock mark, you can find the "FAB. EN SUIS" mention – it replaces the traditional "Swiss Made" marking.
Even though the new Tambour watch looks simple from far, it has a deep and interesting design. Its chapter ring is located on the periphery. It features a polished step, separated by a minuterie outer ring and an inner hour ring, both of which are characterized by micro-sanded main surfaces.
The various markers on the dial are designed to complement one another in order to create a spatial balance. They're also used in relief to set the time, and they feature white gold hands and Super-LumiNova.
Movement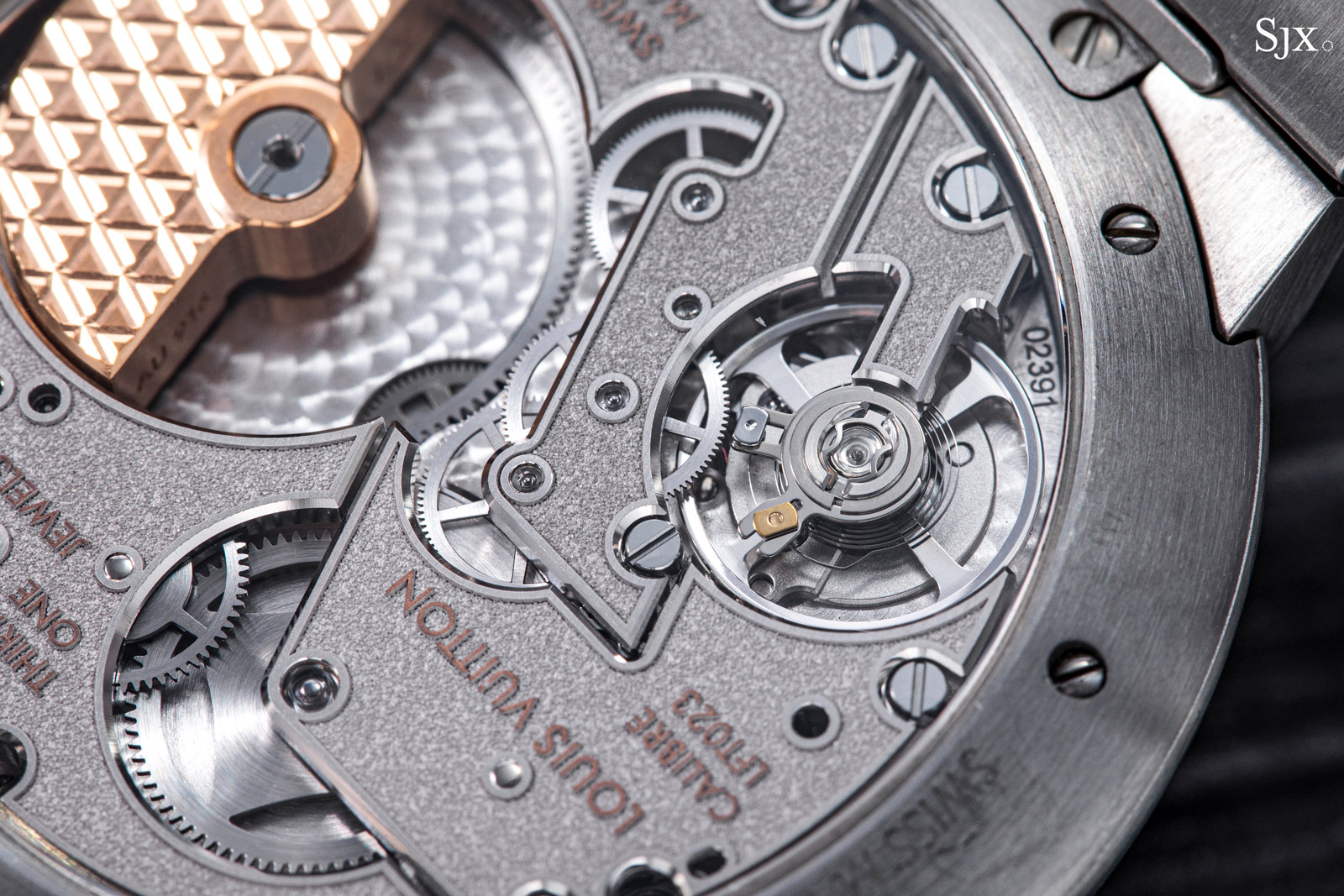 This watch features a micro-rotor movement, which is precisely designed to meet the needs of this novelty. It's the first time that Louis Vuitton has created a movement that's designed for this type of application. This new model was developed in collaboration with Le Cercle des Horlogers, a movement specialist.
The movement is made from 22k gold and features a power reserve of 50 hours. It's also certified by the Geneva Chronometric Observatory. It's operated with a beat rate of 4 Hz and is accurate to +6s and -4s on a daily basis.
Bracelet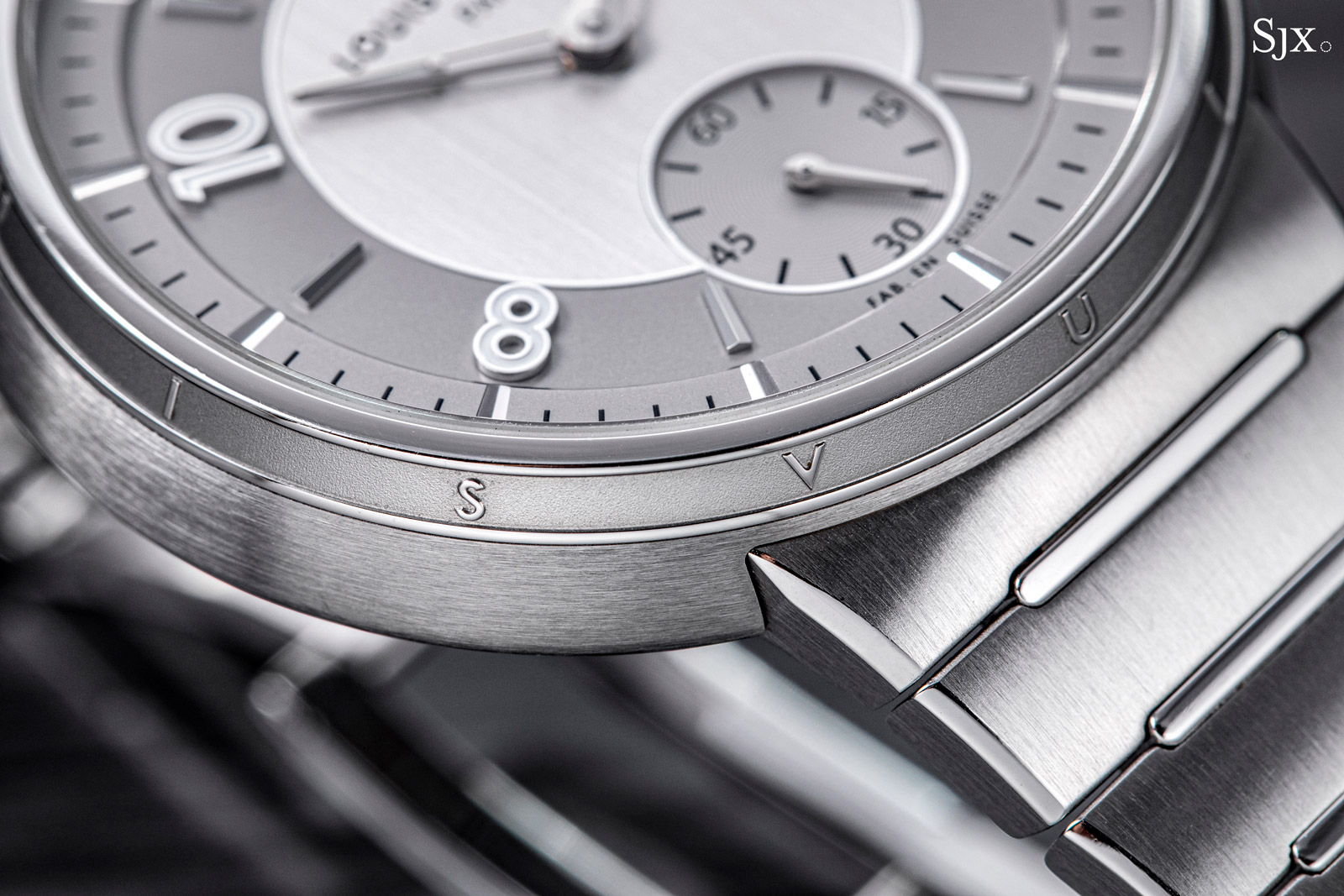 A watch's bracelet is a vital component, and the Tambour's features a lug-free construction that allows it to seamlessly flow with the case. It is among the few genuinely round watches with integrated bracelets. The Tambour's bracelet has been carefully crafted.
The bracelet features a small round mid-link that's connected to the short links. The shape of the bracelet is designed to give a tapering effect, and it's closed with a triple-folding clasp that's concealed. There are a couple of things to take note of the lack of a micro-adjustment system and the lack of quick-change capabilities.
Price and Availability
Louis Vuitton's new Tambour is now available for purchase from their boutiques. The first deliveries will take place in September 2023, and the price is 19,500 Euros. You can order the watch through the company's website now.
Final Thoughts
To celebrate the Tambour's 21st birthday, Louis Vuitton has created this new variation that is more mature. I believe that designers and watchmakers have actually produced a terrific watch that will interest both men and women. The watch's sleek and stylish design combined with its resilient bracelet and wonderfully ended up motion makes it a perfect addition to any attire.